From time to time I am asked about the use of OneDrive in business and that some users have embraced it and some haven't. Well the easy way for them to get to use it is to divert all their normal folders, Documents / Pictures etc away from the normal location and in to OneDrive. They still work exactly the same way but mean they are accessible everywhere and provides a much better experience for the user. This is what you need to do. First step is to get into Group Policy Management on your DC.
Right click, (in this case on Light Blue Frog) and select 'Create a new GPO'. Then give it a meaningful name.
Now you have the basic framework in place, we need to give it some options. So right click the GPO and edit it.

Then Navigate down to User Configuration | Policies | Windows Settings | Folder Redirection | Documents. Right click and select 'Properties', then put the following values in.
Do the same for the Pictures item as well, but with these settings. You will get a warning about it not being a UNC path but just ignore that.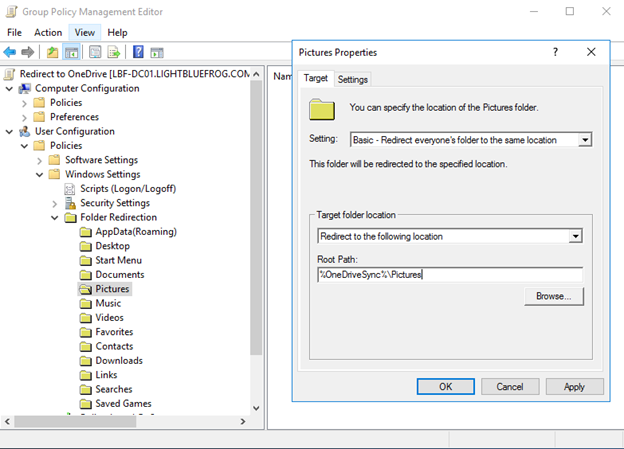 The next part is to add the environment variable to binds it all together. Go down to User Configuration | Preferences | Environment, and add a new Environment variable. Make it look like this. (Now you will obviously have to substitute the company name out)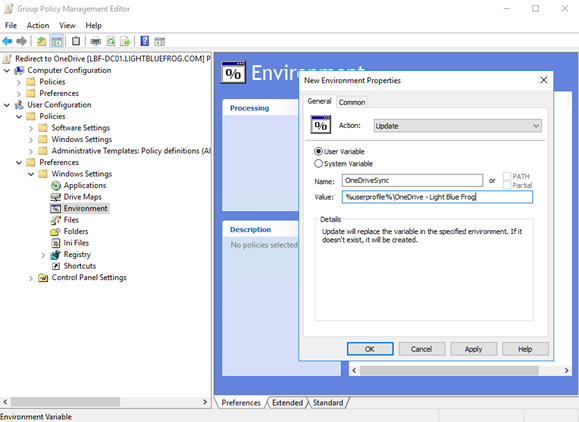 At the end of it all, your GPO should look like this.
Now log a user off and bring them back on. You may need to wait for the normal GPO propagation to occur but the best thing is this.
IF YOU HAVE A USER WITH DOCUMENTS AND PICTURES ALREADY ON THEIR DESKTOP, THE SYSTEM WILL AUTOMATICALLY MIGRATE THE DATA TO ONEDRIVE. HOW FREAKING COOL IS THAT!!
And with that, you are done.