The background here is that we all know it is pretty easy to go into the console and to add the relevant Office 365 licenses to a particular user. You can even script it if you are doing hundreds. But what it you could just put them in an AD group and have it automatically taken care of. Well you can, pretty easy too. Follow this guide and I will show you how.
The first step is to make a group that relates to licensing. As we are using the E3 trial for our test tenant I am going to create the group like this.
Nothing special yet. Just a group with our user Peter Gibbons in it. (Please acknowledge the Office Space reference). This needs to sync to the cloud so you might need to wait for your 30 minute cycle for this to occur. Once it is in the cloud you are ready to go.
Inside the Office 365 Admin Center, go right down the bottom left hand side and locate 'Admin Centers'. Then click on 'Azure Active Directory'.
There is a caveat here. You must have at leas the Azure Premium P1/P2 licensing for your tenant. You can get a three month trial though, use this link to apply that. https://www.microsoft.com/en-us/cloud-platform/enterprise-mobility-security-trial
When you are in there it will look something like this.
Now Click on Azure Active Directory | Groups. You will see all of your synced groups, including the one you created for the licensing.

Now click on the Office 365 Licenses E3 group that we created. There you can manage all kinds of things but we are interested in Licenses, so select that from the left hand column.
You will get a fairly empty screen but we want to click on 'Assign' on the top tool bar to get to this next screen.
After you click on Assign, from the Products option select the 'Office 365 Enterprise E3' and click Select. Then select the 'Assignment Options' and you can select a more granular approach to the assignments.
Remember to click 'OK' as you backtrack all the boxes but you final screen should look like this.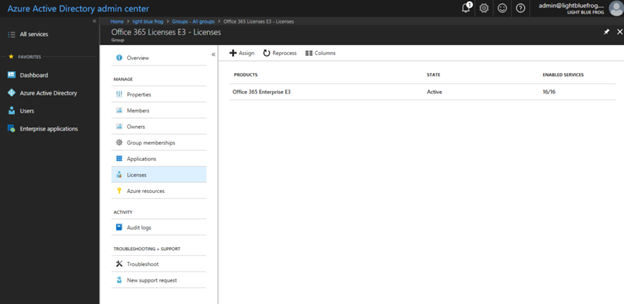 Now we need to give it a few minutes for everything to update through the system but after that we can check on Peter Gibbons and see what licenses he has now.